Three new prefabricated additions for Surrey Schools announced by province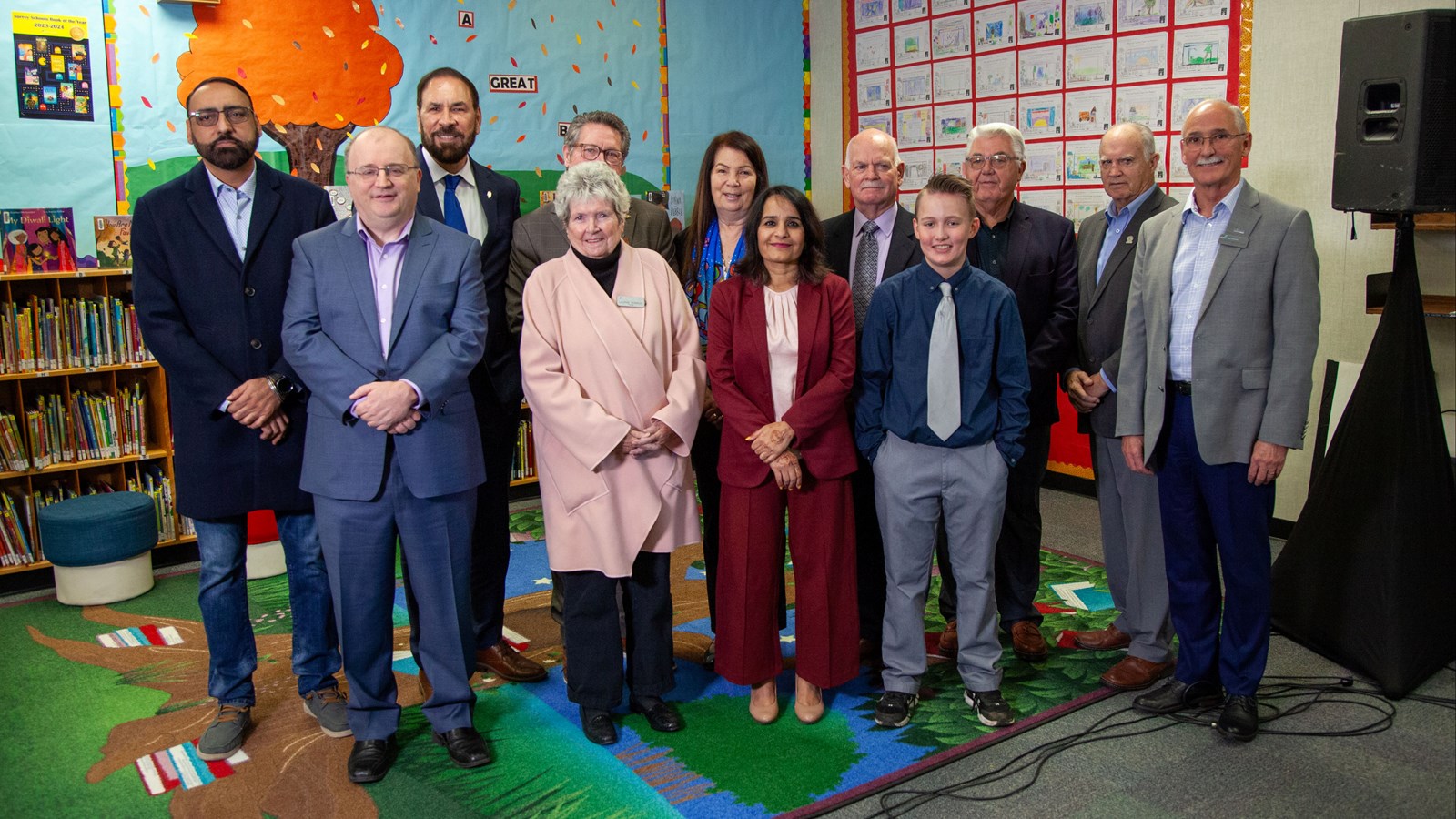 Lena Shaw, Walnut Road and Woodland Park elementary schools are each receiving prefabricated additions, announced Tuesday by the Ministry of Education and Child Care. The additions will create 36 new classrooms and are expected to be ready in the 2024-25 school year. (Photo by Jacob Zinn)
Three Surrey elementary schools are set to receive prefabricated additions as early as the next school year, following a funding announcement by the Ministry of Education and Child Care this afternoon at Woodland Park Elementary.
On Tuesday (Nov. 14), the provincial government announced $54 million for 36 new classrooms at Lena Shaw, Walnut Road and Woodland Park elementary schools, to be delivered as custom-manufactured, two-storey, prefabricated additions for each school. The funding will create 875 new seats for Surrey elementary students, with the classrooms expected to be ready in the 2024-25 school year.
"We are very grateful to receive this funding to purchase prefabricated structures for three of our schools," said Laurie Larsen, Chair of the Surrey Board of Education. "Not only can these structures be assembled quickly, but they also offer a more space-efficient solution compared to traditional portables.
"We look forward to continuing to work with the provincial government to find sustainable, long-term solutions to alleviate our district's capacity challenges."
This year, student enrolment ballooned to nearly 82,000 students, exceeding projections for the 2023-24 school year.
As the district continues to face challenges stemming from rapid growth, prefabricated additions offer a creative solution, using accessible, sustainable and energy-efficient designs that can be manufactured more quickly to get students into classrooms faster.
Additionally, their two-storey structure reduces the onsite footprint to maximize outdoor play space. The additions will include student and staff bathrooms, and flexible space to foster a dynamic and versatile learning environment.
The three additions are the latest capital projects to receive ministry funding, after recent announcements of a 20-classroom addition at Kwantlen Park Secondary and a combined 41 classrooms being added at Guildford Park and Tamanawis secondary schools. The district also currently has additions under construction at Semiahmoo Trail (10 classrooms) and South Meridian (eight classrooms) elementary schools, as well as Ta'talu Elementary under construction and Snokomish Elementary in process, with each new school creating 27 classrooms.
For more information on Surrey Schools capital projects, see our Capital Project Office progress chart.