Funding announced for Guildford Park and Tamanawis Secondary additions as Ta'talu Elementary construction progresses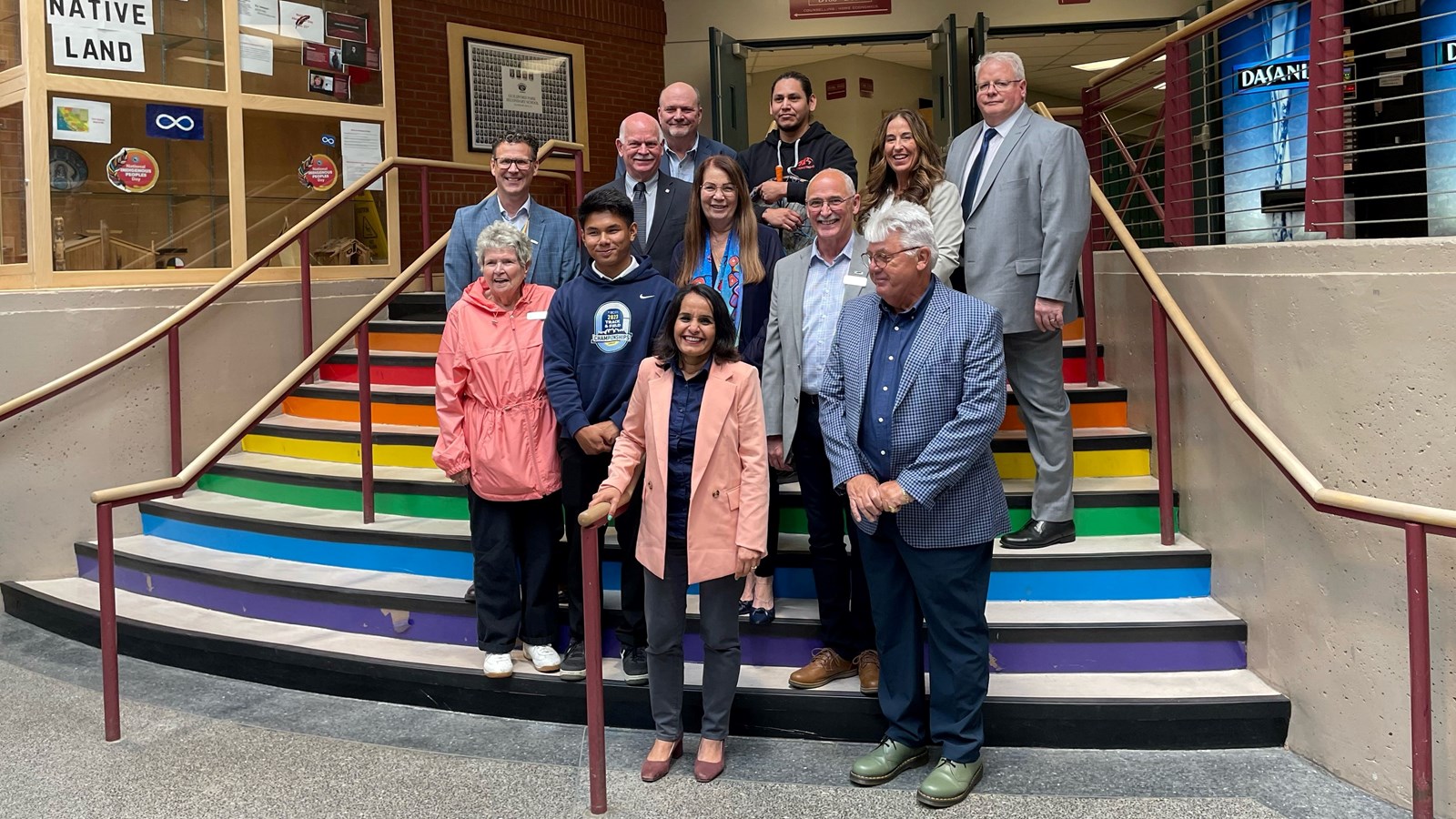 Minister of Education and Child Care Rachna Singh visited Guildford Park Secondary on Monday to announce funding for new additions to Guildford Park and Tamanawis Secondary.
Minister of Education and Child Care Rachna Singh was in Surrey on Monday for two site visits, taking the opportunity to view the construction progress at Ta'talu Elementary before announcing the commitment of funding for new additions at Guildford Park and Tamanawis secondary schools.
Announced today (Monday, June 19), the B.C. government is contributing $59.5 million toward 18 classrooms at Guildford Park, and $52 million toward 23 classrooms at Tamanawis. This funding will provide classrooms for 450 more students at Guildford Park and 575 more at Tamanawis, helping to address ongoing enrolment growth in the Newton and Guildford neighbourhoods.
"Investments like this are what our district needs to keep students in their neighbourhood schools," said Laurie Larsen, Chair of the Surrey Board of Education. "It is important that we all continue working together to ensure students in our district can continue to enrol in their neighbourhood schools."
The funding announcement comes just three months after the provincial government committed $40.9 million for a 20-classroom addition at Kwantlen Park Secondary, scheduled to increase the school's capacity by 500 students.
Meanwhile in South Surrey, Ta'talu Elementary is the latest new school under construction in the area, following the openings of Douglas Elementary, Edgewood Elementary and Grandview Heights Secondary, and additions to Sunnyside Elementary and Morgan Elementary in the past two years. Despite recent investment in new school space, nearby Edgewood is anticipated to have 15 portables onsite this summer due to rapid housing development in the area.
"As more and more families choose Surrey as their home, investments like this are crucial to ensure that every child receives a quality education and is provided a solid foundation for future success," said Larsen. "We look forward to our continued work with the province to find sustainable solutions that will meet the needs of students and families in our fast-growing district."
The name "Ta'talu" was gifted to the district by Semiahmoo First Nation Chief Harley Chappell and is derived from the SENĆOŦEN language, translating to "little arms" in reference to the school's location near Campbell River and its tributaries, often referred to as the "little arms" of the river. SENĆOŦEN is the ancestral language spoken by the Semiahmoo Peoples, encapsulating the rich cultural heritage of the area.
"The opening of this school and the naming using the traditional language of the lands is great for the relationship building between Semiahmoo and the school district, students, staff and local residents," said Chief Chappell. "We're excited to be acknowledged and share our culture with our neighbours and all the people that now call Surrey home."
The new three-storey elementary school will have classroom space for 655 students, with two additional rooms for child care. In a first for the district, the state-of-the-art learning facility will be a hybrid mass timber building, incorporating timber with concrete and steel in an effort to reduce the district's carbon footprint.
Ta'talu is expected to open in January 2025, joining the 16 other new and expanded schools completed in Surrey since 2017.