Surrey Schools expands meal programs & initiatives following provincial investment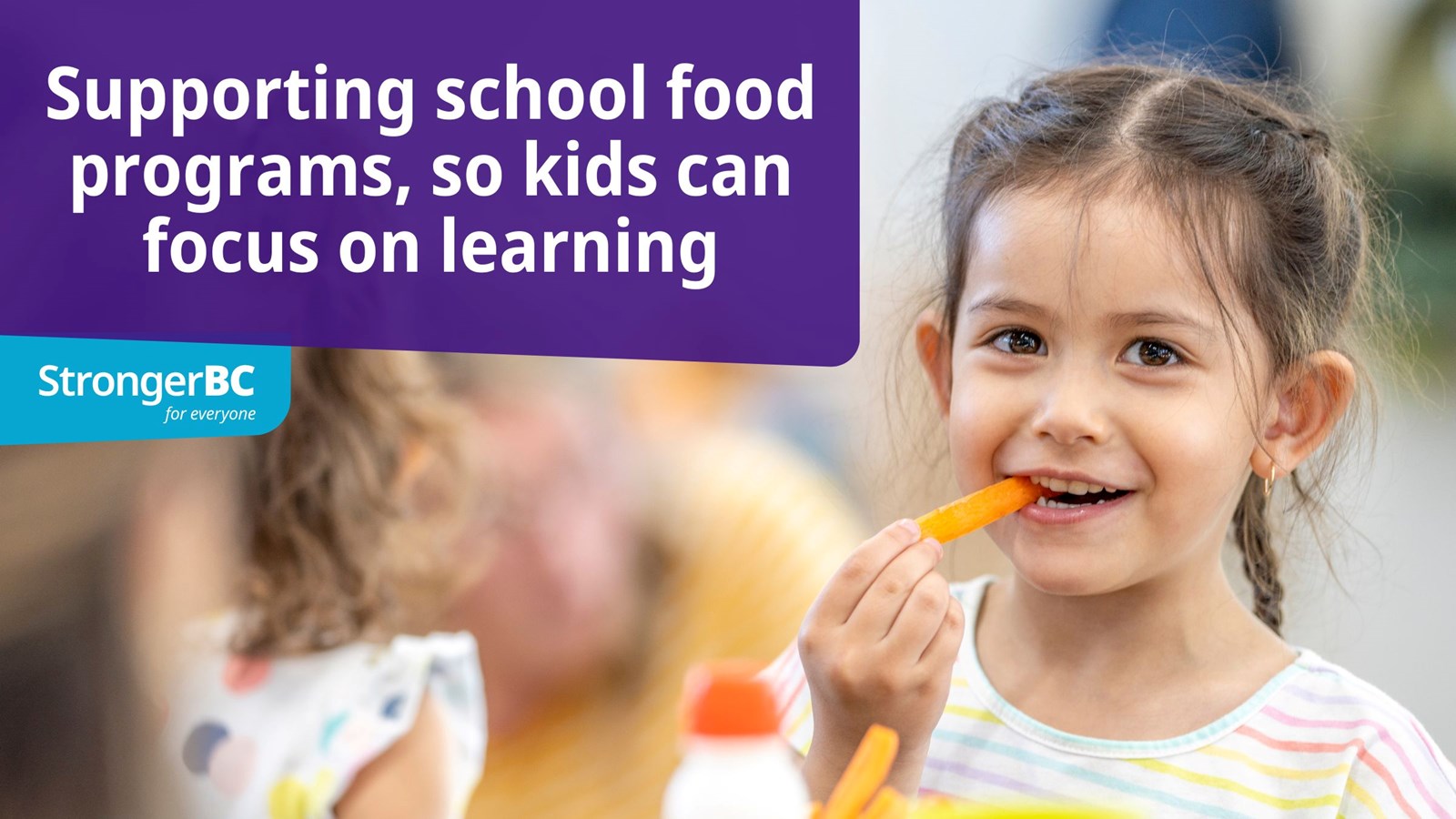 Starting this September, students at Surrey and White Rock schools will have expanded access to meal programs following an increase in provincial funding for school food programs.
As part of the initiative, Surrey Schools will receive $8.4 million per year for three years to expand school meal program offerings. The work will be overseen by the district's School and Community Connections department, which focuses on strengthening connections with students, including those most in need of assistance, through before-and-after-school programming and partnerships with key community stakeholders.
"As British Columbia's largest and fastest-growing school district, we see first-hand the profound impact food and nutrition can have on a child's learning," said Laurie Larsen, chair of the Surrey Board of Education. "For years, our generous community donors have enabled us to provide breakfast and lunch to students who may otherwise lack regular access to healthy meals. This new provincial funding will allow our district to further enhance the support we extend to our students and their families, particularly as costs associated with meal programs continue to rise."
The new provincial funding model, known as "Feeding Futures," is described as the largest investment in school food programs in the province's history.
"The funding will not only allow the district to strengthen existing school meal programs and partnerships but will also provide the resources to establish programs beyond the current scope," explains Rob Rai, director of School and Community Connections. "We want to look at creating universal access so that there is no stigma attached to any student needing food, be it school or at home, in the evenings or on weekends.
"We also want to ensure that all of the food we put forward is culturally informed for the variety and diversity of students, languages, populations and cultures represented in Surrey."
Assistant Superintendent Jacob Sol emphasized the importance of school nutrition programs, noting a portion of the funding will be used to ensure long-term availability and accessibility to students across the district for years to come.
"Research shows that students who eat healthy and nutritious food are better primed for learning, experience improved learning outcomes and are able to better regulate their behaviour," he said.
Sol also reiterated that existing partnerships would remain a key part of food security programs moving forward.
"Our donor and community partner programs are critical to the district and allow us to support the over 8,000 students in need of food daily," he said. "Those relationships remain an essential part of our efforts to ensure students have access to nutritious food across the district."
The new and expanded district food support programs will be implemented in September 2023.
For more information on the expansion of the Surrey Schools food program, click here.